Our Mobile Solutions Save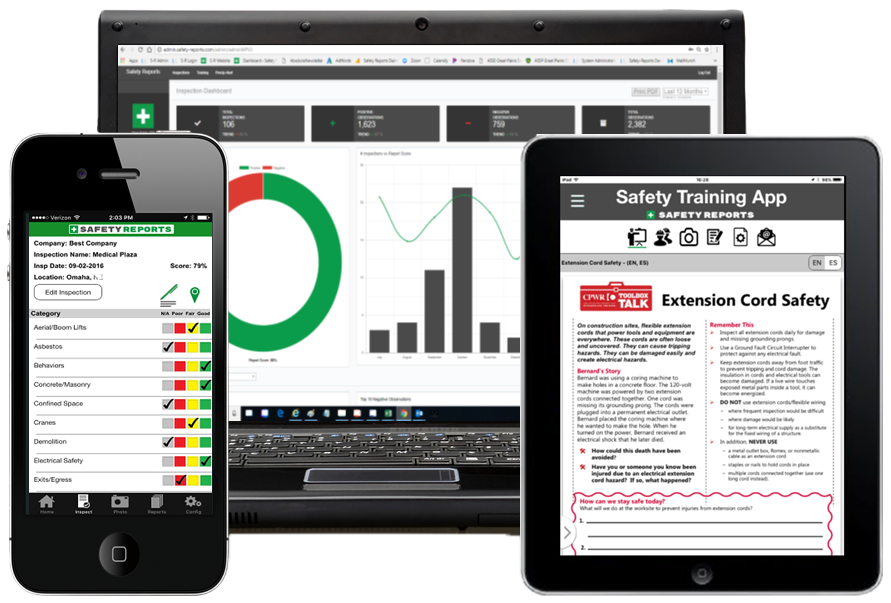 Explore our Safety Solutions
Are you needing a simple and affordable solution that allows your organization to improve safety compliance and get employees more engaged in the safety process? Look no further. Safety Reports offers an off-the-shelve product that delivers a customized solution to meet your needs. No setup fees, no long-term contracts, no hassles. Check us out and see what thousands of others have already discovered!
WHAT OUR CUSTOMERS THINK...
"Safety Reports is easy to use, provides comprehensive client reports and significantly reduces the time it takes for our consultants and auditors to produce professional reports. I highly recommend this product to anyone looking for a safety inspection App."
Jeff Mattes
Three Sixty Safety
"The immediate creation of the report on the site…has streamlined the inspection and report process which allows me to be more productive!"
David Simmons
Diversified Construction Safety, Inc.
"Safety-Reports saved us potentially thousands of dollars in OSHA penalties, due to the detailed information and the increase in inspections supporting our defense."
Travis Johnson
Scott and Murphy, Inc.
"I completed my audit, sent it out to the responsible people and they updated the corrective action, and I received instant notification. This is terrific stuff! Great job guys, love it!!!"
Nicholas Grimaldi, CSP, ASP, CSH
Pioneer Industries, Intl.
"Safety-Reports works great! It really helps me organize my reports and has saved me many hours of report writing time. In addition, I'm able to get the reports to my clients much faster."
Keith Badey
Bermac Risk Management, LLC
"With the ever-increasing emphasis on safety in the roofing industry, this product is a must-have! It has helped us develop our safety culture with easy to use and practical reporting."
Nick Bieker
R.L. Craft Roofing Co.
"No more late nights in the office or a hotel room typing reports and no more late reports to the client thanks to Safety-Reports!"
Eric Stephan
Safe Construction Consulting, LLC
"We have experienced a significant reduction in man-hours to prepare safety audit reports and the back-end data is real-time and useful. Highly recommended."
Joe Corvello
American Bridge Company
"Safety-Reports is simple to use and easy to set up. The abilities that it has to track safety violations has helped us focus on trends and helped to reduce the number of those violations."
Chris Johnson
Dickey-Hinds-Muir
"Great app and great service!"
Troy Teepe
G&J Pepsi
"By far the best inspection app on the market! If you want to achieve safety compliance this app is for you!"
Charles Herrier
Jack C Montgomery VA Medical Center
"I am very impressed with the Safety-Reports app and website, it has made my safety inspections more professional, thorough and it is a quality of life upgrade for me out on the construction jobsites."
Ben C. Bookman
Bi-Con Services, Inc.
"I find the app very easy to use and access all aspects of the report. Adding pictures is very easy and makes for a good looking report. This is a very professional looking report App. I'm glad we are using it now."
Mike Smolar
Safety Manager
"Safety reports is an incredible time saver...I appreciate how professional and comprehensive the reports are for my clients leaving them with a world class image of my consulting practice. With safety reports I can perform my inspection and complete a usable report for my client in record time."
Gordon Gillis, GSP
Safety Services Hawaii
Check us out on Social media