Toolbox Talks, Tracking and more!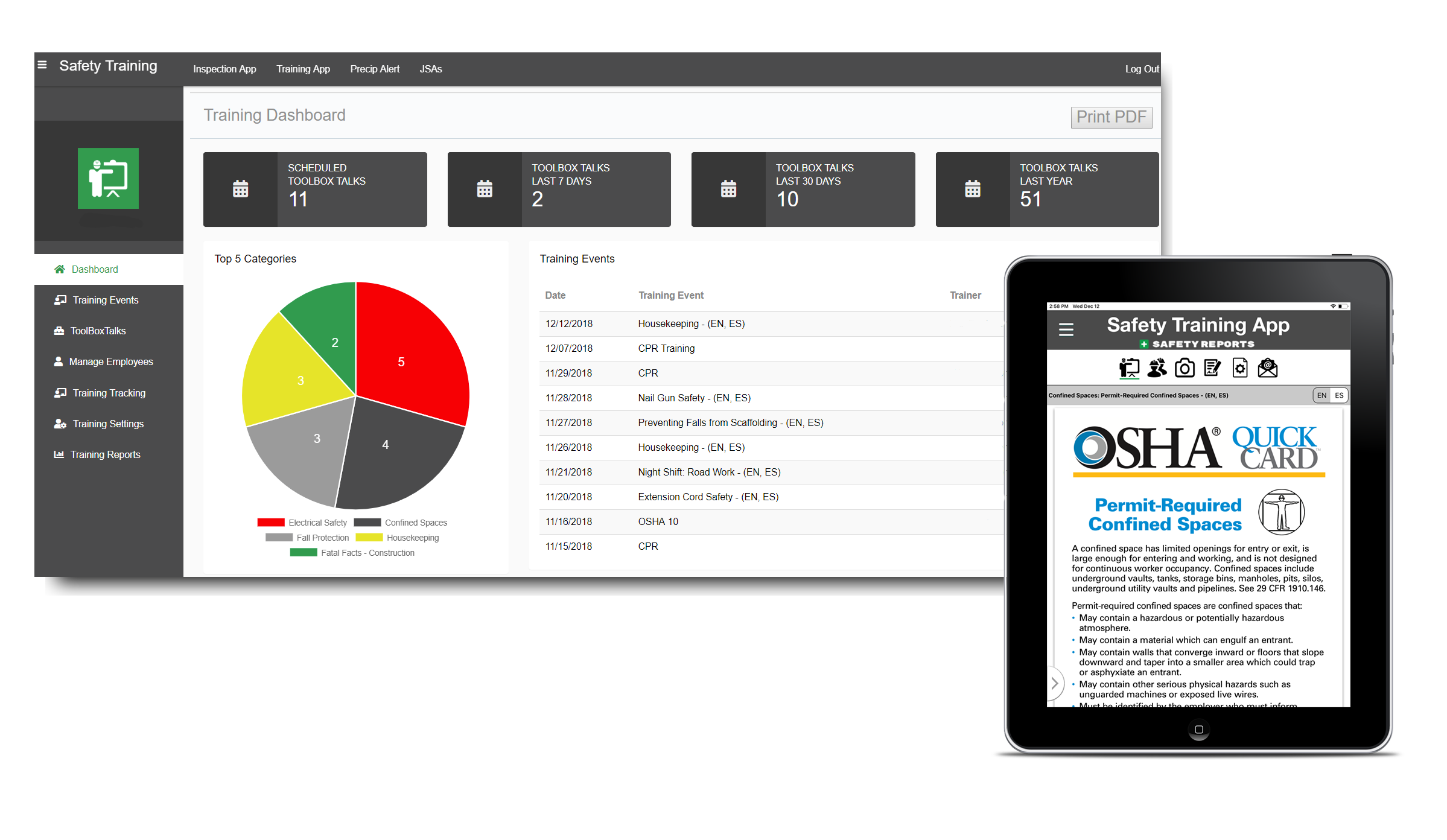 GO PAPERLESS!
No more printing safety topics to paper and manually scanning or tracking attendance rosters. Let the Safety Training App improve your company's safety program by utilizing the best "free" training app available!
SIMPLIFY TRAINING!
No more sending safety talks to your crews and hoping that they complete them and turn in documentation. The Safety Training App helps automate the process by scheduling and tracking your Toolbox Talk sessions!
DOCUMENT TRAINING!
Training confirmation is simple when your safety talks are completed electronically. Just hit "send" and your training documents, complete with signatures, is delivered via email.
Designed to work with both Apple and Android smartphones and tablets. The tablet implementation (i.e. iPad, etc.) provides for an exceptionally easy user interface and lends itself well to photo's, signature capture and attendance tracking.
Comes preloaded with dozens of pertinent Toolbox Talks from sources including OSHA and leading Universities. Ask us how you can add your trade association or company Toolbox Talks!
Maintains a history of your training sessions so you can track and confirm which of your employees have attended Toolbox Talk training sessions.
Optional built-in signature capture and training session photos can be included in the training reports for enhanced proof of attendance.
Aerial Lifts
Confined Spaces
Crane Safety
Electrical Safety
Environmental Health
Equipment Safety
Ergonomics
Fall Protection
Fatal Facts
Fire Safety
Forklift Safety
General Safety
Health/Fitness
Housekeeping
Ladders & Stairways
Lockout/Tagout
Machine Guarding
Manual Material Handling
Marine Safety
Material Storage & Disposal
Personal Protective Equipment
Public Protection
Respiratory Protection
Tool Safety
Traffic Control/Safety
Trenching/Excavation
Vehicle Safety
Walking-Working Surfaces
Weather Safety
Welding, Cutting, Brazing