Developed by a CSP

Built for all Industries

Extremely Easy to Learn

No Long-Term Contracts
Mobile Safety Inspection App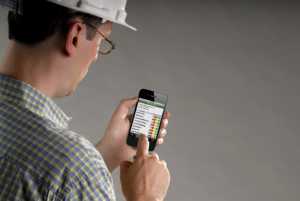 Conduct inspections accurately on the fly
Our comprehensive, yet simple, mobile inspection app will forever change how you document safety audits. It is compatible with iOS and Android devices (smartphones and tablets) and includes a web-based version that can be used from your laptop or PC. Safety-Reports has the ability to work "offline"- allowing you to complete inspections even when cellular or Wi-Fi connections are unavailable. Our customers have access to multiple comprehensive checklists that are applicable to almost any industry group. Our unique checklists reference regulatory standards and contain a link to the standard accessible from within the app and embedded in our reports.
Electronic Correction Action Tracking (eCAT)
Document corrective action to address violations
Not only do we provide a simple platform to document your safety observations, but we also provide an electronic system to help you document the corrective action taken to address violations. You don't have to be a subscriber to access the electronic corrective action system.  Corrective action items are emailed to the intended recipient who simply clicks on a link in the email to view the violation and type in what they did to address the issue.  The system includes reminder emails if action is not taken in a timely manner. You sit back and receive reports indicating the number of open, closed or pending items along with the number of days it took to close them out.
Trend and Analyze Inspection Data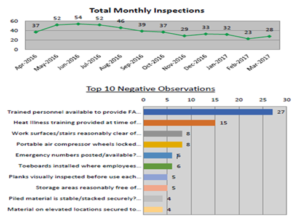 Use the data gathered from your inspections to improve your business
Our "Performance Reports" allow you to quickly and easily trend and analyze your inspection data. For example, our "Top 10 Negative Observations" reports help identify areas where further training or oversight is needed.  We also provide detailed summary reports allowing you to drill down on the inspection data and pinpoint what issues need to be addressed.  Our reports can also be used to identify areas of compliance- which are then used as part of a company's "Safety Recognition Program".  All of our reports can be scheduled and will appear in your email inbox weekly, monthly, quarterly or annually.
Using the Safety-Reports mobile inspection app will cut your report writing time by up to 90 percent!  You simply click 'yes' or 'no'  on the applicable checklist items and submit your report.  Our pre-loaded observations and recommendations virtually eliminate report writing time.
The Safety-Reports mobile inspection app helps your organization maintain compliance with applicable safety regulations which greatly reduces your likelihood of receiving a citation.  Furthermore, data collected using our app has proven to help 'vacate' or at least reduce the severity citations.
The simplicity of our mobile app will increase inspection frequency which leads to a safer work site.  And, it doesn't hurt that people love using our app, which increases their engagement and improves safety awareness and ownership.
The immediate creation of the report on the site…has streamlined the inspection and report process which allows me to be more productive!
David Simmons
Safety-Reports saved us potentially thousands of dollars in OSHA penalties, due to the detailed information and the increase in inspections supporting our defense.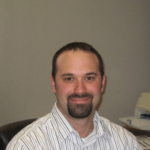 Travis Johnson
I completed my audit, sent it out to the responsible people and they updated the corrective action, and I received instant notification. This is terrific stuff!  Great job guys, love it!!!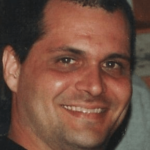 Nicholas Grimaldi
With the ever-increasing emphasis on safety in the roofing industry this product is a must have! It has helped us develop our safety culture with easy to use and practical reporting.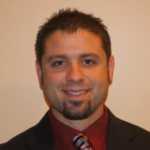 Nick Bieker
Safety-Reports works great! It really helps me organize my reports and has saved me many hours of report writing time. In addition, I'm able to get the reports to my clients much faster.
Keith Badey
No more late nights in the office or a hotel room typing reports and no more late reports to the client thanks to Safety-Reports!
We have experienced a significant reduction in man-hours to prepare safety audit reports and the back-end data is real time and useful. Highly recommended.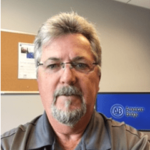 Joe Corvello
By far the best inspection app on the market! If you want to achieve safety compliance this app is for you!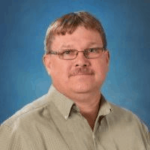 Charles Herrier
Awesome product! We've been using this product for a few years and our staff loves it!
Kim Enoch
Great app and great service!
Troy Teepe
Safety-Reports is simple to use and easy to set up. The abilities that it has to track safety violations has helped us focus on trends and helped to reduce the number of those violations.